Researching the Kia Sportage
The crossover automobile has taken over the industry in more ways than one. The Kia Sportage is no exception to the rule as this crossover is gifted beyond belief. If you're a daily driver, then you'll love how this vehicle hugs the highway. Of course, the Kia Sportage has savage good-looks, and there are numerous trim levels to choose from. This includes the LX, S, EX, and SX Turbo. Let's dive into some of the top features by reading below.
Performance
The Kia Sportage has been designed to handle each and everyone's driving ability. Dynamax all-wheel drive has been incorporated to provide an enhancement in road traction. Of course, this provides curve-handling traction. The available 2.4-liter I4 engine is a breath of fresh air as it delivers 181 horsepower. On the other hand, the SX Turbo trim provides on-demand acceleration while generating 240 horsepower. All of this power comes from a smaller 2.0-liter turbocharged engine. Sitting on 18-and 19-inch wheels doesn't hurt either, and these wheels perfectly fit the frame. Electronic Stability Control and Traction Control enhances the level of performance.
Safety
First and foremost, the Sportage has a high-strength steel construction. Preventing road crashes is the goal, and this crossover does it better than most. Blind Spot Detection will alert the driver when another automobile moves into your blind zones. Lane Departure Warning will help to keep you safely within your lane. An audible alert will engage if you begin to drift. There's also Automatic Emergency Braking as well as a rearview camera.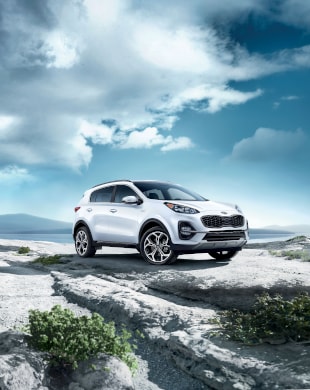 Features
The Kia Sportage offers several upholstery types, such as leather, leatherette and cloth materials. With two spacious rows, five people can sit in the cabin. The vehicle's Panoramic sunroof will provide fresh air and outstanding views. Sport steering and paddle shifters are also on the menu to take your performance farther. A new Kia Sportage allows you to stream playlists via smartphone integration. Apple CarPlay, Android Auto and wireless charging are available for your enjoyment.
The Kia Sportage is worth the price of admission and is changing the game from an affordable standpoint.